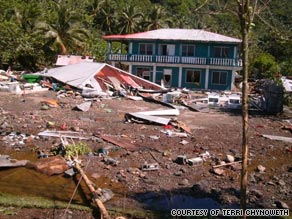 De tsunami die gisteren is ontstaan in de Stille Oceaan heeft op de Samoa-eilanden aan zeker 55 mensen het leven gekost. Op Amerikaans Samoa zijn 22 doden gevallen. Veel mensen worden vermist. President Obama heeft de noodtoestand uitgeroepen zodat er noodhulp naartoe kan.

"I thought it was the end of the world," zegt Dr. Salamo Laumoli, baas van de Gezondheidszorg op Samoa. "I have never felt an earthquake like that before."
De golven waren 7,5 meter hoog en niet 1,5 meter zoals werd gedacht toen de tsunami nog op zee was. Bewoners waren gewaarschuwd maar de impact was voor veel mensen groter dan verwacht. Getuigen
vertellen
wat ze hebben gezien.
UPDATE
: 120 doden, tientallen vermisten